Accreditation and affiliation
International School of Ministry (ISOM) is accredited through the Transworld Accrediting Commission International (TACI), a federally recognized, non-profit church educational organization whose philosophy is to demonstrate accountability to the consuming public for education obtained in nontraditional evangelical educational institutions.
ISOM is not government approved accredited. However, ISOM holds articulation agreements, for the purpose of transferring credits, with many Christian universities, Bible colleges, and Seminaries. The receiving school always determines credit transferability. Our affiliate institutions include Christian Leadership University (CLU), Vision International University (VIU), and Covenant Theological Seminary (CTS). None of these institutions are recognized though government approved accrediting agencies, and are not intended to be used for employment advancement.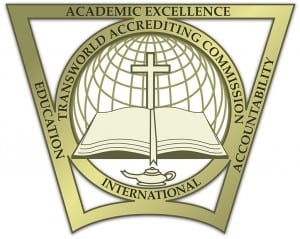 Higher Education Accreditation in the US
Higher educational accreditation in the United States is done through various accrediting organizations. Some are academically orientated, and most non-profit; while some are for-profit, typically offering specific vocational, career, or technical programs. Accrediting agencies are accountable to the U.S. Department of Education (USDoED). The USDoED does not accredit individual institutions, rather provides guidelines, as well as, resources, and relevant data to these accreditors.
Religious Accreditors
Although some Christian universities, Bible colleges, and Seminaries hold secular government approved accreditation, there are different agencies that specialize in accreditation of religious schools. These groups specialize in accrediting theological and religious schools including seminaries and graduate schools of theology, as well as broader-scope universities that teach from a religious viewpoint and may require students and/or faculty to subscribe to a statement of faith.
Do You Need An Accredited Higher Education for Ministry?
You need to decide whether your ministry training program needs to be through a secular government approved or religious accrediting agency or not. The difference usually has to do with price. There is a huge cost in obtaining and maintaining accreditation. Accreditation often limits institutions to teachers with academic credentials and not real-life experience. Accreditation confirms that specific standards for professional and academic are met. 
Many of the most respected Bible School training programs in the US are not accredited through a secular agency recognized by the USDoED. A classic example is Christ for the Nations Institute (CFNI) in Dallas, Texas. It is highly respected throughout the Christian world with some of the best professors and teachers anywhere. Secular accreditation is not a significant factor when it comes to respected ministry training. With that being said, ISOM highly endorses several accredited institutions. These include Regent University, Oral Roberts University, Grand Canyon University, Biola University, Azusa Pacific University, The King's University, Vanguard University, and many others. At these institutions, you can expect to pay between 15,000 USD to 40,488 USD per year in tuition alone. The average cost of tuition is 25,392 USD.
Average Student Loan Debt
According to the Federal Reserve, over half of young adults who went to college in 2018 took on debt. About 69% of students from the Class of 2018 took out student loans, graduating with an average debt balance of 29,800 USD, according to Student Loan Hero. According to the College Board, the average cumulative student debt balance in 2017 was 26,900 USD for graduates of public four-year schools and 32,600 USD for graduates of private nonprofit four-year schools. 
Of those who are currently making payments, the average monthly payment is between 200 USD and 300 USD, but roughly three out of 10 student loan borrowers are not required to make payments on their loans, often because of deferment. In 2017, 20% of those with student loans were behind on their payments, according to the Federal Reserve up from 18% in 2015 and 19% in 2016.
Delinquency rates decrease with each level of educational attainment: More than 30% of student loan borrowers with less than an associate's degree are behind on their payments, 25% of those with an associate's degree are behind, 11% of those with a bachelor's degree are behind and 5% of those with a graduate degree are behind.
In 2017, the average student loan balance was 10,600 USD, more than twice the average owed in 2004.
As a result, student debt borrowers are struggling to make ends meet. According to Pew Research Center, 21% of employed adults between the ages of 25 and 39 with at least a bachelor's degree and outstanding student loans work more than one job, and just 27% of young college graduates with student loans say they are living comfortably, compared to 45% of college graduates of a similar age without outstanding loans.
Today, only 51% of college graduates with student loans say that the lifetime financial benefits of their degree outweigh the costs.
How to Choose a Ministry Program
Accreditation confirms that a college or university meets specific standards for professional and academic quality, not teaching from a Christian worldview. Attending a secular accredited school increases your employability in the world but not necessarily in a Church, ministry, or missions organization. As far as practical Christian ministry training is concerned, few programs on Earth will outshine the ISOM. 
Below is a list of elements to consider when you are selecting where to get your ministry degree:
INSTRUCTOR QUALIFICATIONS
Before choosing a ministry degree program, find out who's teaching classes. Do you want to learn from faculty members with advanced degrees or from well-known instructors with extensive real-world experience in ministry?
SPECIALIZATION OPTIONS
Make sure the school you pick offers a ministry concentration that fits your ministry goals, whether it's youth ministry, business, pastoral studies, church administration, or something different.
COST
The cost of college varies widely depending on a program format, state residency rules, and whether you attend a public or private school. The most important factor should be deciding on a program that you can afford to finish.
Below is a list of pros and cons to consider before you settle on a ministry degree program like ISOM Online: 
PROS
No student loans to pay off

Biblical preparation for work in churches.  

Instructors with real-life experience.

Affordable

Flexible schedule

No student housing costs

No parking fees

No class schedules
CONS
No financial aid available

No federal student loans

Fewer job prospects in the secular market.

Some instructors without academic credentials

No campus life or activities

No athletics

No library

No secular employment advancement